Kia Soul: Mirrors / Outside rearview mirror
Be sure to adjust the mirror angles before driving.
Your vehicle is equipped with both lefthand and right-hand outside rearview mirrors. The mirrors can be adjusted remotely with the remote switch. The mirror heads can be folded back to prevent damage during an automatic car wash or when passing through a narrow street.
WARNING
Rearview mirrors
The outside rearview mirror is convex. Objects seen in the mirror are closer than they appear.
Use your interior rearview mirror or direct observation to determine the actual distance of following vehicles when changing lanes.
CAUTION
Do not scrape ice off the mirror face; this may damage the surface of the glass. If ice should restrict the movement of the mirror, do not force the mirror for adjustment. To remove ice, use a deicer spray, or a sponge or soft cloth with warm water.
CAUTION
If the mirror is jammed with ice, do not adjust the mirror by force. Use an approved spray de-icer (not radiator antifreeze) to release the frozen mechanism or move the vehicle to a warm place and allow the ice to melt.
WARNING
Do not adjust or fold the outside rearview mirrors while the vehicle is moving. This could result in loss of control, and an accident which could cause death, serious injury or property damage.
Remote control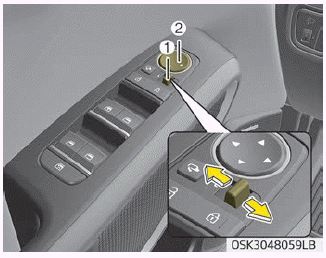 The electric remote control mirror switch allows you to adjust the position of the left and right outside rearview mirrors. To adjust the position of either mirror,move the R or L switch(1) to select the right side mirror or the left side mirror, then press a corresponding point ( ) on the mirror adjustment control (2) to position the selected mirror up, down, left or right.
CAUTION
The mirrors stop moving when they reach the maximum adjusting angles, but the motor continues to operate while the switch is pressed. Do not press the switch longer than necessary, the motor may be damaged.
Do not attempt to adjust the outside rearview mirror by hand. Doing so may damage the parts.