Kia Soul: Seat belt restraint system / 3 Point rear center belt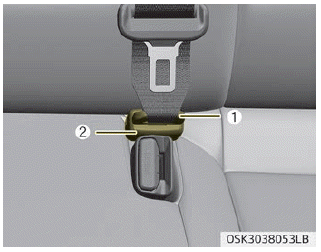 WARNING
Rear center seat belt
Do not separate mini tongue (1) and mini buckle (2) even if there is not an occupant.
If it is separated, It may hit the rear seat occupants in a collision or sudden stops.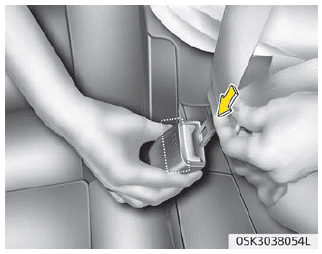 Pull the tongue plate and insert the tongue plate into the open end of the buckle until an audible "click" is heard, indicating the latch is locked. Make sure the belt is not twisted.
CAUTION
When using the rear center seat belt, the buckle with the "CENTER" mark must be used.
There will be an audible "click" when the tab locks in the buckle. The seat belt automatically adjusts to the proper length only after the lap belt is adjusted manually so that it fits snugly around your hips, if you lean forward in a slow, easy motion, the belt will extend and let you move around. If there is a sudden stop or impact, the belt will lock into position. It will also lock if you try to lean forward too quickly.
WARNING
When using the rear seat center belt, you must lock all tongue plates and buckles. If any tongue plate or buckle is not locked, it will increase the chance of injury in the event of collision.