Kia Soul: Lane Keeping Assist (LKA) system / LKA system operation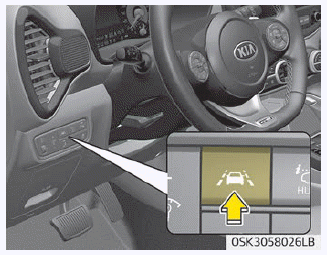 To activate/deactivate LKA:
With the engine start/stop button in the ON position, LKA turns on automatically. The indicator (

) in the cluster display will initially illuminate white. If you press the LKA button located on the instrument panel on the lower left hand side of the driver, LKA will be turned off and the indicator on the cluster display will go off.
The color of indicator will change depend on the condition of LKA.
- White : Sensor does not detect the lane marker or vehicle speed is less than 60 km/h (37 mph).
- Green : Sensor detects the lane marker or road edge and system is able to control the steering.
LKA system activation
To see LKA system screen on the LCD display in the cluster, Tab to the ASSIST mode ( ).
For further details, refer to [menu settings] in chapter 4, [crash pad].
After LKA system is activated, if the lane marker or road edge are detected, vehicle speed is over 60 km/h (37 mph) and all the activation conditions are satisfied, a green steering wheel indicator will illuminate and the steering wheel will be controlled.
WARNING
Lane Keeping Assist System is a system to help prevent the driver from leaving the lane or road edge. However, the driver should not solely rely on the system but always check the road conditions when driving.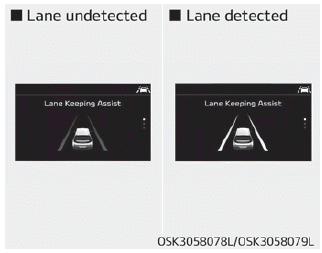 If the speed of the vehicle is over 60 km/h (37 mph) and the system detects lane markers, the color changes from gray to white.