Kia Soul: Driving your vehicle / Forward collision-avoidance assist-lane-change oncoming function (if FCA equipped)
Forward Collision-Avoidance Assist- Lane-Change Oncoming function detects the oncoming vehicle with a front view camera at the front wihdshield. And it assists the driver's steering to help avoiding the collision to oncoming vehicle and keeping the vehicle in the lanes, when the vehicle drives over the centerline.
WARNING
Depending on the country in which the vehicle sold, FCA-LO function may not be available. See following table for details.
Please contact your dealer to see if FCA-LO function is available in your country.
This function is only a supplemental system. So, it does not replace the need for extreme care and attention of the driver. The sensing range of oncoming vehicle is limited. Pay attention to the road conditions at all times.
Always drive cautiously to prevent unexpected and sudden situations from occurring. The function does not steer the vehicle completely and is not a collision avoidance system.
Function operation
Driver can activate(or deactivate) the function from the User Settings mode: 'User Settings Driver assistance Forward Collision-Avoidance Assist (FCA)' For further details, refer to "System setting" on page 6-57.
Warning message and function control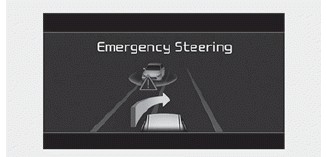 - After FCA is on, vehicle speed is over 60 km/h (37 mph) and if the vehicle across the centerline even though the oncoming vehicle approacing, this warning message appears on the LCD display with audible warning.
- Additionally, provides steering assist to return vehicle back into lanes.
WARNING
The steering control can not completely avoid the collision to oncomimg vehicle. Driver is reponsible for being aware of surroundings and steering the vehicle for safe driving practices.
The function operated within certain conditions, such as the distance and speed from the oncoming vehicle, the driver's vehicle speed, etc. The function can be cancelled or not work properly according to road condition and surroundings. Always be cautious when driving.
Never drive deliberately and dangerously to activate the system.
Limitations
Refer to "Limitation of the System [LKA]" on page 6-103.
Refer to "Detecting vehicles [FCA]" on page 6-63.