Kia Soul: Air bag - supplemental restraint system / Side air bag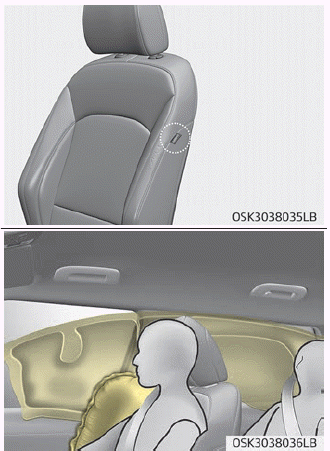 ❈ The actual air bags in the vehicle may differ from the illustration. Your vehicle is equipped with a side air bag in each front seat.
The purpose of the air bag is to provide the vehicle's driver and/or the front passenger with additional protection than that offered by the seat belt alone.
The side air bags are designed to deploy only during certain side-impact collisions, depending on the crash severity, angle, speed and point of impact. The side air bags are not designed to deploy in all side impact situations.
WARNING
Do not allow the passengers to lean their heads or bodies onto doors, put their arms on the doors, stretch their arms out of the window, or place objects between the doors and passengers when they are seated on seats equipped with side and/or curtain air bags.
WARNING
The side air bag is supplemental to the driver's and the passenger's seat belt systems and is not a substitute for them. Therefore your seat belts must be worn at all times while the vehicle is in motion. The air bags deploy only in certain side impact conditions severe enough to cause significant injury to the vehicle occupants.
For best protection from the side air bag system and to avoid being injured by the deploying side air bag, both front seat occupants should sit in an upright position with the seat belt properly fastened.
Do not use any accessory seat covers.
Use of seat covers could reduce or prevent the effectiveness of the system.
To prevent unexpected deployment of the side air bag that may result in personal injury, avoid impact to the side impact sensor when the ignition key is on.
If the seat or seat cover is damaged, have the system serviced by a professional workshop. Kia recommends to visit an authorized Kia dealer/service partner.
WARNING
No attaching objects
Do not place any objects over the air bag or between the air bag and yourself. Also, do not attach any objects around the area the air bag inflates such as the door, side door glass, front and rear pillar.
Do not place any objects between the door and the seat. They may become dangerous projectiles if the side air bag inflates.
Do not install any accessories on the side or near the side air bags.