Kia Soul: LKA system operation / Warning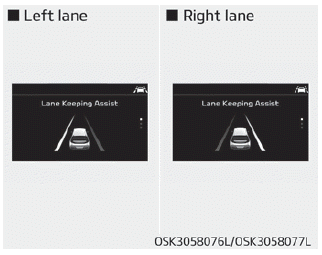 If the vehicle leaves a lane or road edge, the lane marker or road edge you cross will blink on the LCD display and the warning sound is provided.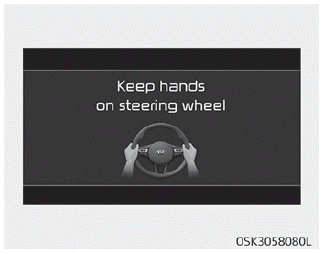 If the driver takes hands off the steering wheel for several seconds while LKA is activated, the system will warn the driver.
WARNING
The warning message may appear late according to road conditions. Therefore, always have your hands on the steering wheel while driving.
If you hold the steering wheel lightly, the system would generate hands off warning because LKA system can treat the situation as you do not grab the wheel.
If continuous hands-off occurs continuously, the beeping can be lengthened and continued even if LKA steer control is released.
WARNING
The driver is responsible for accurate steering.
Even though the steering is assisted by the system, the driver may control the steering wheel.
Turn off the system and drive the vehicle in below situations.
- In bad weather.
- In bad road condition.
- When the steering wheel needs to be controlled by the driver frequently.
- When towing a vehicle or trailer.
The steering wheel may feel heavier when the steering wheel is assisted by the system than when it is not.
The system will be canceled when:
You change lanes with the turn signal.
- Using the turn signal to change lanes.
- If you change lanes without the turn signal on, the steering wheel might be controlled.
LKA system can transit to steering assist mode when the car is near to middle of the lane after system on or the lane was changed. LKA system can not assist steering if the vehicle follows lane marker too close continuously before transition to steering assist mode.
The control of ESC (Electronic Stability Control) or VSM (Vehicle Stability Management) is activated.
The steering will not be assisted when your drive fast on a sharp curve.
The steering will not be assisted when vehicle speed is below 55 km/h (34 mph) and over 200 km/h (125 mph).
The steering will not be assisted when you change lanes or road edge fast.
The steering will not be assisted when you brake suddenly.
The steering will not be assisted when the lane is very wide or narrow.
There are more than two lane markers such as a construction area.
Radius of a curve is too small.
When you turn steering wheel suddenly, the LKA system will be disabled temporarily.
Driving on a steep slope or hill.