Kia Soul: Smart Cruise Control (SCC) system / Smart Cruise Control vehicle-tovehicle distance setting
To set vehicle-to-vehicle distance: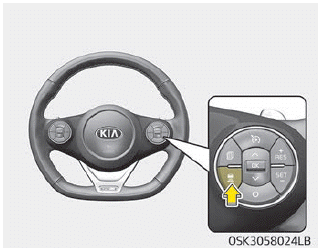 This function allows you to program the vehicle to maintain relative distance to the vehicle ahead without depressing the accelerator pedal or brake pedal. The vehicle to vehicle distance will automatically activate when Smart Cruise Control system is on.
Select the appropriate distance according to road conditions and vehicle speed.
Each time the button is pressed, the vehicle to vehicle distance changes as follows:

For example, if you drive at 90 km/h (56 mph), the distance maintain as follows;
Distance 4 - approximately 52.5 m
Distance 3 - approximately 40 m
Distance 2 - approximately 32.5 m
Distance 1 - approximately 25 m
NOTICE
The distance is set to the last set distance when the system is used for the first time after starting the vehicle.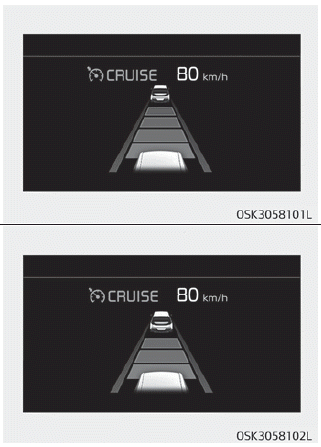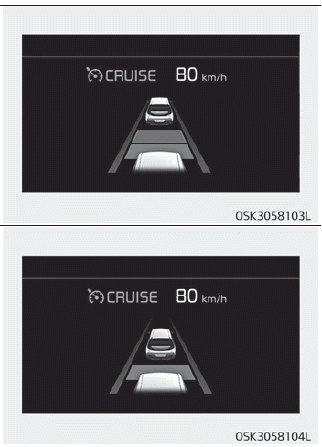 The vehicle will maintain the set speed, when the lane ahead is clear.
The vehicle will slow down or speed up to maintain the selected distance, when there is a vehicle ahead of you in the lane. (A vehicle will appear in front of your vehicle in the LCD display only when there is an actual vehicle in front of you)
If the vehicle ahead speeds up, your vehicle will travel at a steady cruising speed after accelerating to the selected speed.
If distance from the front vehicle has been changed due to accelerating or decelerating of front vehicle, the distance on the LCD may be changed.
WARNING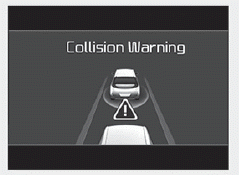 When using Smart Cruise Control System:
The warning message appears and warning chime sounds if the vehicle is unable to maintain the selected distance from the vehicle ahead.
If the warning message appears and warning chime sounds, depress the brake pedal to actively adjust the vehicle speed, and the distance to the vehicle ahead.
Even if the warning message does not appear and warning chime does not sound, always pay attention to the driving conditions to prevent dangerous situations from occurring.
Playing the vehicle audio system at high volume may offset the system warning sounds.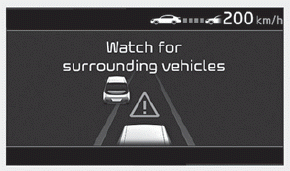 CAUTION
If the vehicle ahead (vehicle speed: less than 30km/h) disappears to the next lane, the warning chime will sound and a message will appear. Adjust your vehicle speed for vehicles or objects that can suddenly appear in front of you by depressing the brake pedal according to the road condition ahead and driving condition.