Kia Soul: Driving your vehicle / Smart Cruise Control (SCC) system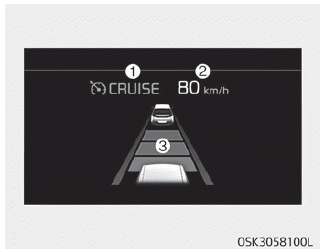 1. Cruise indicator
2. Set speed
3. Vehicle-to-vehicle distance
To see SCC screen on the LCD display on the cluster, select Assist mode (

). For more informations, refer to "LCD display" on page 4-51.
Smart Cruise Control system allows you to program the vehicle to maintain constant speed and distance detecting the vehicle ahead without depressing the accelerator or brake pedal.
WARNING
For your safety, please read the owner's manual before using Smart Cruise Control system.
NOTICE
To activate Smart Cruise Control system, depress the brake pedal at least once after turning the engine start/stop button to the ON position or starting the vehicle. This is to check if the brake switch which is important part to cancel Smart Cruise Control system is in normal condition.
WARNING
If Smart Cruise Control system is left on, (cruise indicator in the instrument cluster illuminated) Smart Cruise Control system can be activated unintentionally. Keep Smart Cruise Control system off (cruise indicator turn off) when the smart cruise control is not used.
Use Smart Cruise Control system only when traveling on open highways in good weather.
Do not use Smart Cruise Control system when it may not be safe to keep the car at a constant speed. For instance.
- Highway interchange and tollgate
- Road surrounded by abnormally multiple steel constructions (subway construction, steel tunnel, etc)
- Parking lot
- Lanes beside guard rail on a road
- Slippery road with rain, ice, or snow covered
- Abrupt curved road
- Steep hills
- Windy roads
- Off roads
- Roads under construction
- Rumble strip
- The sensing ability decreases if the level of front and rear vehicle is changed from the factory.
- When driving in heavy traffic or when traffic conditions make it difficult to drive at a constant speed
- When driving on rainy, icy, or snow-covered roads
- When driving with limited view (possibly due to bad weather, such as fog, snow, rain or sandstorm)
Pay particular attention to the driving conditions whenever using Smart Cruise Control system.
Smart Cruise Control system is not a substitute for safe driving. It is the responsibility of the driver to always check the speed and distance of the vehicle ahead.
Be careful when driving downhill using SCC.
Limited visibility (rain, snow, smog, etc.)
Cruise function should not be used when the vehicle is being towed to prevent any damage.
Always set the vehicle speed under the speed limit in your country.
Unexpected situations may lead to possible accidents. Pay attention continuously to road conditions and driving even when the smart cruise control system is being operated.